Category Archives:
Boat Insurance Reviews
Boat US Boat Insurance is a marine insurance program.  It has supplied boat insurance coverage options for recreational boaters and their boats nationwide for over forty five years. There are low cost policies available for just about all boat types.  This program is serviced by dedicated boat insurance experts. They are committed to exceptional policy service. They are also committed to experts claim handling that gets you back to boating as fast as possible.


BoatU.S. is one of the largest recreational boat insurance companies in the United States.  They insure over $8 billion in insured hull value.  BoatUS policies are now underwritten by National Liability & Fire Insurance Company which is a member of the Berkshire Hathaway group of insurance companies.  They have an  A.M. Best Rating of A++.
Here are some of policies offered for a variety of boating lifestyles:
* Yacht – This is complete agreed value protection of your boat, gear, and motor. This is their flagship policy. Their Yacht policy is for just about all boat types, except for Personal Watercraft.
* Boat Saver – This is Basic Actual Cash Value protection of your boat. It is a lower premium.
* Angler – This is the best coverage for your gear and fishing boat. This selection of policies are specifically for the Avis Angler.
* Liability Plus – This policy is the lowest in cost. This policy option supplies the necessary liability coverage that you need. This is without the additional cost of hull coverage.
* PWC – This policy is for the safety of PWC owners. This covers jet powered crafts.
Here are the features all the policies consist of:
* Liability for dock contracts
* Uninsured boater protection
* Extra fuel liability
* Full salvage assistance
* 24/7 claims and dispatch of assistance
* Diminishing deductibles (similar to Progressive, deductibles are reduced by 25% each year you are claim free)
* Free subscriptions to the newsletter Seaworthy Damage Avoidance
* Named storm haul out coverage
* Acclaimed damage avoidance program
Here are some of the coverages that are add-ons to the Yacht policy:
* Watersports package – This actual cash coverage goes up to $5,000. This coverage is for your watersports equipment. This is one package. This includes automatic tournament coverage, increased medical payment limits, and more. It does not come with the PWC policy.
* Freezing and ice coverage – This is generally excluded. This allows claims for damages that result from freezing and ice. This is great for boaters in cold weather climates.
* Depreciation waiver – This policy allows for partial replacement or repairs without depreciation. This available for boats ten years and under.
* Personal effect coverage – This coverage is for non boating related equipment. This equipment includes fishing equipment, water skiing, stereo, or other sports equipment. It also covers clothing that is lost or damaged while on board.
* Lower electronics deductible – This is for boats with higher value. Purchase a lower deductible of $250 per incident. With this, you can evade a full policy deductible for claims related to navigational electronics.
* Lower dinghy deductible – This decreases your deductible to $100 for claims relating to damage, dinghy, or motor theft.
* Premier value package
Here are the coverages that are add-ons for the Boat Saver policy:
* Sporting equipment coverage
* Watersports package
Here are the types of boats that Boat US Boat Insurance will cover:
* Convertible fishing boat
* Center console
* Bowrider
* Bay boat
* Bass boat
* Deck boat
* Cuddy cabin
* Cruiser
* Express fisherman
* Dual console
* Downeast cruiser
* Dinghy
* Houseboat
* High performance boat
* Flats boat
* Fish n ski boat
* Multi species boat
* Jon boat
* Jet boat
* Inflatable boat
* PWC or personal watercraft
* Power catamaran
* Pontoon boat
* Pilothouse boat
* Ski and wakeboard boat
* Sedan bridge boat
* Runabout
* Rigid inflatable
* Walkarounds
* Skiff
* Utility boat
Review of Progressive Boat Insurance
I have personally used Progressive boat insurance for about ten years now.
Progressive provides specialized boat and personal watercraft (PWC) insurance coverage in addition to its traditional home, auto, and other recreational offerings.  One of the best and most well known features is the disappearing deductible.  Every time you renew your boat insurance with Progressive, they will decrease your deductible by 25 percent.  This is a standard feature on all agreed upon value and total loss policies.  It is great to have an insurance company that actually rewards you for doing business with them!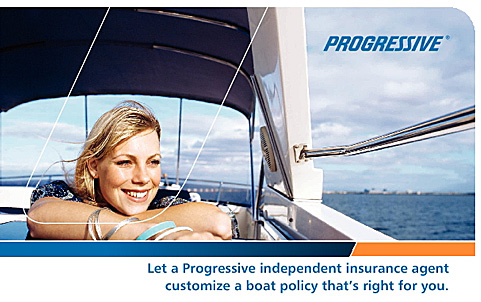 Some Features of Progressive Boat/ PWC Insurance
Each Progressive boat insurance policy comes with plenty of options for specialized coverage, such as Roadside Assistance, Trailer coverage,  On the Water Towing, Total Loss Replacement and agreed upon value, fishing gear and electronics coverage and more.   It is great to have so many options.  I have traditionally priced out my policy each year to find the best deal and Progressive by far has had the fairest prices and largest selection of options.  The options not only let you pick and choose what coverage you need or want but you can also decrease your policy costs by reducing coverage in areas you may not need.
Progressive has Boat insurance that covers many kinds of boats,  even specific coverage such as fishing boat insurance, personal watercraft (PWC) insurance, jet -boat insurance, sailboat insurance,  or even house boat insurance (no I don't believe homeowners policies cover houseboats).
Specialized Boat Coverages
Watercraft insurance coverage goes beyond the scope of a standard homeowners policy to include features like Roadside Assistance, which covers towing of your boat or personal watercraft for free, as long as your trailer is covered; On-the-Water Towing, in case you're stranded out on the water; and Un-insured Boaters coverage which is great since not all states require boat insurance and you can be stuck with the bill if another boat collides with yours. You can also choose Fuel Spill Liability and Boat Wreckage Removal coverages.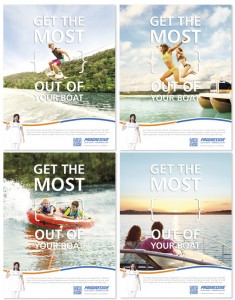 Customer Service
Progressive has been great on the phone anytime I have had to deal with them.  When I had a claim on my car, I could not believe how well they handled everything.  Overall I have personally had good experiences with Progressive but as always, do your research and read the fine print to make sure your expectations meet the reality of the policy.