Tag Archives:
Progressive Boat Insurance
Review of Progressive Boat Insurance
I have personally used Progressive boat insurance for about ten years now.
Progressive provides specialized boat and personal watercraft (PWC) insurance coverage in addition to its traditional home, auto, and other recreational offerings.  One of the best and most well known features is the disappearing deductible.  Every time you renew your boat insurance with Progressive, they will decrease your deductible by 25 percent.  This is a standard feature on all agreed upon value and total loss policies.  It is great to have an insurance company that actually rewards you for doing business with them!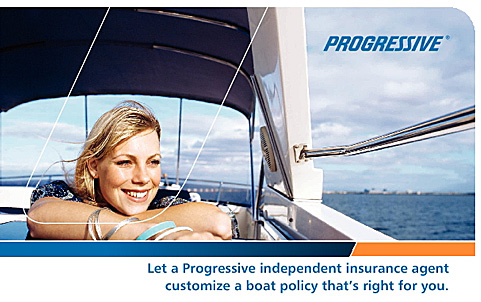 Some Features of Progressive Boat/ PWC Insurance
Each Progressive boat insurance policy comes with plenty of options for specialized coverage, such as Roadside Assistance, Trailer coverage,  On the Water Towing, Total Loss Replacement and agreed upon value, fishing gear and electronics coverage and more.   It is great to have so many options.  I have traditionally priced out my policy each year to find the best deal and Progressive by far has had the fairest prices and largest selection of options.  The options not only let you pick and choose what coverage you need or want but you can also decrease your policy costs by reducing coverage in areas you may not need.
Progressive has Boat insurance that covers many kinds of boats,  even specific coverage such as fishing boat insurance, personal watercraft (PWC) insurance, jet -boat insurance, sailboat insurance,  or even house boat insurance (no I don't believe homeowners policies cover houseboats).
Specialized Boat Coverages
Watercraft insurance coverage goes beyond the scope of a standard homeowners policy to include features like Roadside Assistance, which covers towing of your boat or personal watercraft for free, as long as your trailer is covered; On-the-Water Towing, in case you're stranded out on the water; and Un-insured Boaters coverage which is great since not all states require boat insurance and you can be stuck with the bill if another boat collides with yours. You can also choose Fuel Spill Liability and Boat Wreckage Removal coverages.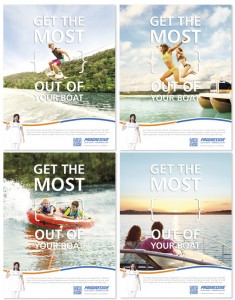 Customer Service
Progressive has been great on the phone anytime I have had to deal with them.  When I had a claim on my car, I could not believe how well they handled everything.  Overall I have personally had good experiences with Progressive but as always, do your research and read the fine print to make sure your expectations meet the reality of the policy.